Brews
TRULY LOCAL CRAFT BEER
Coming from the  heart  of  the barley producing region in Western Australia's south east, Esperance's Lucky Bay Brewing is part of the local farming community. Being local we select the season's best produce from a local bloke's paddock to bring you a brew you will want to savour to the last drop, just like our local beaches.
Sandy Hook – Barley Pale Ale (BPA)
Showcasing Esperance's premium barley, with a colour and foam resembling the enticing perilous shorelines of Sandy Hook Island. This barley pale ale is all about refreshment and drinkability. Saaz and Cascade hops bring a light bitterness, citrus fruit & spiciness to what is a well balanced and approachable beer.
Pairing Note: Sandy Hook is a great accompaniment to a wide variety of meals including snapper and chips.
ABV: 4.5%
IBU: 25
Thistle Cove – Scottish Ale
A Scottish style ale that is balanced firmly towards the malt flavours. Malt sweetness adds mouth-filling character, while the roasted malts add complexity and bitterness to ensure this mid-strength beer delivers on flavour just like the views at Thistle Cove.
Pairing Note: This thirst quencher is a great accompaniment to a wide variety of meals including bbq meats, roasts and vegies.
ABV: 3.4%
IBU: 16
Skippy Rock – German Kölsch
This straw-coloured German pale ale is delicate and refreshing. Fermented warm, served cold and drunk young and fresh. It displays subtle apple and pear fruitiness, a malt sweetness and a dry but spicy finish to reward you like only your favourite Skippy Rock can.
Pairing Note:  The Kölsch is a great accompaniment to a wide variety of meals including chicken and salad.
ABV: 5.5%
IBU: 26
Wharton – Witbier
A refreshing crisp fruity seasonal ale  featuring  local  wheat  direct from the paddock to the brewery to you. Belgium Witbier 'white beer' is light golden, hazy, with subtle citrus spice balancing the silky smooth malt. Spritzy  carbonation  and  perfect white froth will quench your thirst and entice you to wet your  palette  like  the  white  sands  and  spectacular  blue waters
Pairing Note:  Witbier  partners  great  to  salads,  fresh  fish, seafood pasta, mussles & fries, cheese toasty, fruit salad, panna cotta…
ABV: 4.6%;  IBU: 20
The Homestead – Farmhouse Ale
This crisp refreshing Belgian Saison 'farmhouse' style ale has the rustic strong character of our historical Homesteads. Traditionally these ales were brewed in farmhouses during winter ready for drinking come summer. Pale, unfiltered with expressive citrus spicy flavours and a dry finish.
Pairing Note:  The Farmhouse Ale is great paired with full flavoured dishes from spicy asian to curries, grilled meats, shellfish, and garlic herb butter.
ABV: 6.0%
IBU: 25
Cylcops – India Pale Ale (IPA)
This one-eyed epic force of nature is easily one of the heaviest waves in the world. Cyclops India Pale Ale reflects the legend wave with enormous, explosive power holding up a strong wall of flavour, ramped up hops and a dry bitter finish.
Pairing Note:  Cyclops is a match for anything from pizzas to burgers to antipasto.
ABV: 6.0%
IBU: 45
The Tanker – Dark Ale
This Dark Ale salutes the great Tanker Jetty. In appreciation of an iconic Esperance landmark with a rich shared history experiencing dark times. The Tanker balances a complex but subtle array of malt flavours (caramel, toast, nuts, liquorice, chocolate and coffee) with a mildly spicy finish.
Pairing Note:  The Tanker tastes great with with BBQ's, grilled cheese, roasts and  stews.
ABV: 5.1%
IBU: 24

Old Smokey – Porter
(Limited Release) – SOLD OUT
This Porter will remind you of happy times sitting around a campfire watching your billy boil, and your eyes watering from the smoke! Very dark smokey porter. Strong flavour of roasted coffee, chocolate, toffee.
Pairing Note:  The Porter shines when paired with oysters, vintage Chedder cheese, brownies, cheese cake and waffles.
ABV: 5%
IBU: 26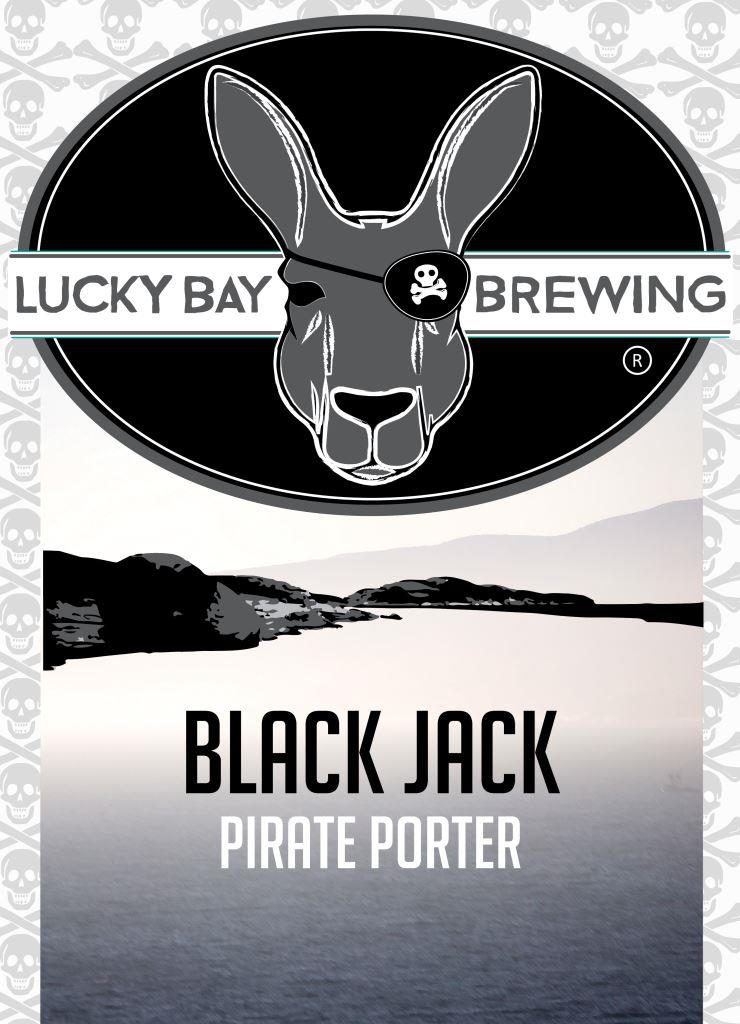 BLACK JACK – Pirate Porter
NEW RELEASE: Named after Black JackAnderson, Australia's only pirate who roamed the waters near Middle Island wreaking havoc to locals and passers by. This nearly black dark porter beer contains
strong flavours of roasted grains, toffee, coffee and chocolate with a mild hint of smoked beech.
Pairing Note: The Porter shines when paired with oysters, vintage Chedder cheese, brownies, cheese cake and waffles.
ABV: 5.2%
IBU: 26
*ABV = alcohol by volume; IBU = International Bitterness Unit